2022 South
Rush Cup & Showcase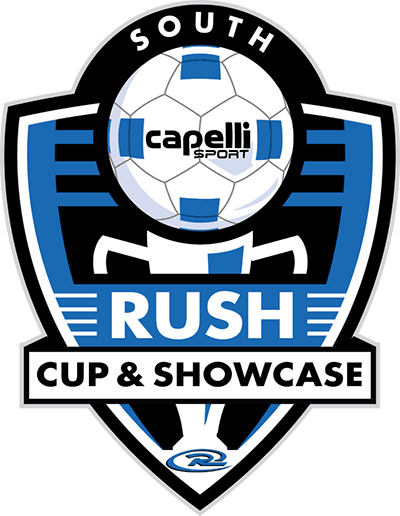 Date
7/29/2022 – 7/31/2022
Location
Moore Park – Lafayette, LA
Age Range
U11 – U19 Boys & Girls
Level of Competition
All Levels
7/30/2022 12:00 PM CST – WE ARE CURRENTLY IN A WEATHER/LIGHTNING DELAY 
Please keep an eye on your emails & follow @rushselect on Twitter for all the latest updates.
This Rush Soccer tournament series – The Rush Cup & Showcase – is excellent for the team that wants high quality competition, to play at a nice facility, and for our high school aged players to be seen by college coaches. We are dedicated to making the experience of this event special for every team. There are discounts to clubs sending 10+ teams. Contact [email protected] to find out about this discount as well as other perks your club can receive!
High-Quality Fields
Athletic Trainers on site
Assigned by quality referee assignor
Vendors on-site with soccer products
Veteran tournament management
DOC's call for special rate and package
Priority scheduling for coaches with 2 teams
Easy online registration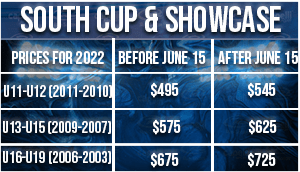 Rush Soccer works closely with Pellucid Travel to source the best hotels and contract with a variety of hotels to fit all accommodations. Pellucid Travel requests to work with a wide variety of lodging partners in order to secure excellent rates for all of our teams.
This event has a Stay to Play policy for all attendees/groups in need of hotels. This is in order to ensure that the hotels, cities, and counties are assured that the discounts they offer are used.
Pellucid Travel works closely with our lodging partners to track team reservations, work to make sure that there are enough rooms, and secure excellent rates for all teams attending each event. They are committed to working with tournaments around the world to provide a high-quality travel and lodging experience that fits the individual needs of each team attending.
If you have any questions, please feel free to email Pellucid Travel at [email protected] 
Join us at 3:45pm on Friday, July 29th on Field 21 at Moore Park for optional Opening Ceremonies where Rush Soccer staff will elaborate on Rush, the Rush Select Program, the & College Advisory Program!
Along with mini-games and prizes to kick off the opening matches at 5pm!
Moore Park
280 Laser Lane
Lafayette, LA 70507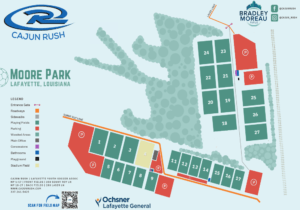 | | | |
| --- | --- | --- |
| June 15 |   | Early Registration Deadline |
| July 10 |   | Registration Deadline – DEADLINE EXTENDED! |
| July 13 |   | Accepted Posted |
| July 15 |   | Brackets Posted |
| July 16 |   | Online Check-in Due |
| July 18 |   | Schedules Posted |
| July 29-31 |   | South Rush Cup & Showcase |
Check out our Tournament Apparel for the SOUTH RUSH CUP & SHOWCASE via SIMAX Sports!
With this link you can pre-order tournament apparel for this event, or simply get a feel for what options you will have on-site to purchase during the tournament!
CLICK HERE FOR THE SOUTH RUSH CUP APPAREL!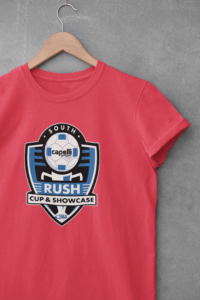 This class is an exclusive benefit for teams that sign up for the Rush Cup & Showcase!
Join us as our College Advisory Directors talk about the top 3 most important things you need to do in your recruitment process. We will be joined by College Coaches for an additional Q & A session so we can answer any questions that you may have. 
Reserve your spot and be signed up to win a $1,000 in guaranteed scholarship. We will be giving away $1,000 at each Showcase. 
Location: TBD
Date:TBD
Time: TBD
See you there!
TOURNAMENT DIRECTORS
Steve Lovgren
804-833-2092
[email protected]
Dillon Wager
518-705-5617
ATTENDING COLLEGE COACHES
More are being added every day!
Interested College Coaches
Are you a college coach interested in attending this event? Please click the link below to learn more and register!